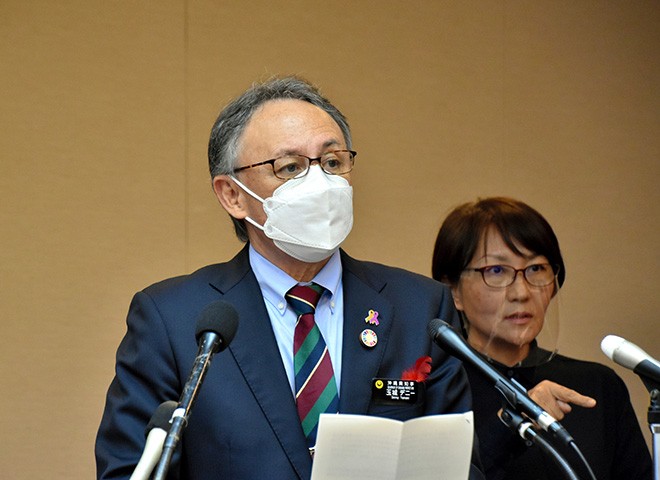 Tamaki considers 'lockdown' of US base due to wave of clusters
[ad_1]
NAHA – Okinawa Governor Denny Tamaki called on the United States Marine Corps' Camp Hansen base to effectively "lock down" following revelations that an outbreak of COVID-19 clusters spreading on the basis now totaled 207 cases.
Denny issued the request because 21 more people at the base have tested positive for the novel coronavirus.
He demanded that all US Marines and civilian employees be restricted to activities on the base and not be allowed to venture beyond the perimeter of the base located in Kin town.
He also called on the U.S. military on December 21 to temporarily halt the rotation of Marines and civilian employees to the base from the United States as part of measures to ensure the safety of prefecture residents.
Tamaki directed the requests to Lt. Gen. James Bierman, whose position as Okinawa Zone Coordinator makes him the most senior US military officer in Okinawa, when they spoke by phone.
He also asked Bierman to ensure that all Marines and civilian employees at Camp Hansen receive polymerase chain reaction (PCR) tests and to establish a genome-based analysis to detect if those who test positive for COVID-19 have the Omicron variant.
In response to Tamaki's request for a temporary halt to deployments of Marine Corps personnel to Camp Hansen, US military officials said they would consider their options in light of their obligations under the Japan Security Treaty. American, according to prefecture officials.
In response to the request to ban staff from leaving the base, US officials insisted they had prevented infections from spreading further from units whose staff had tested positive for COVID-19 .
[ad_2]