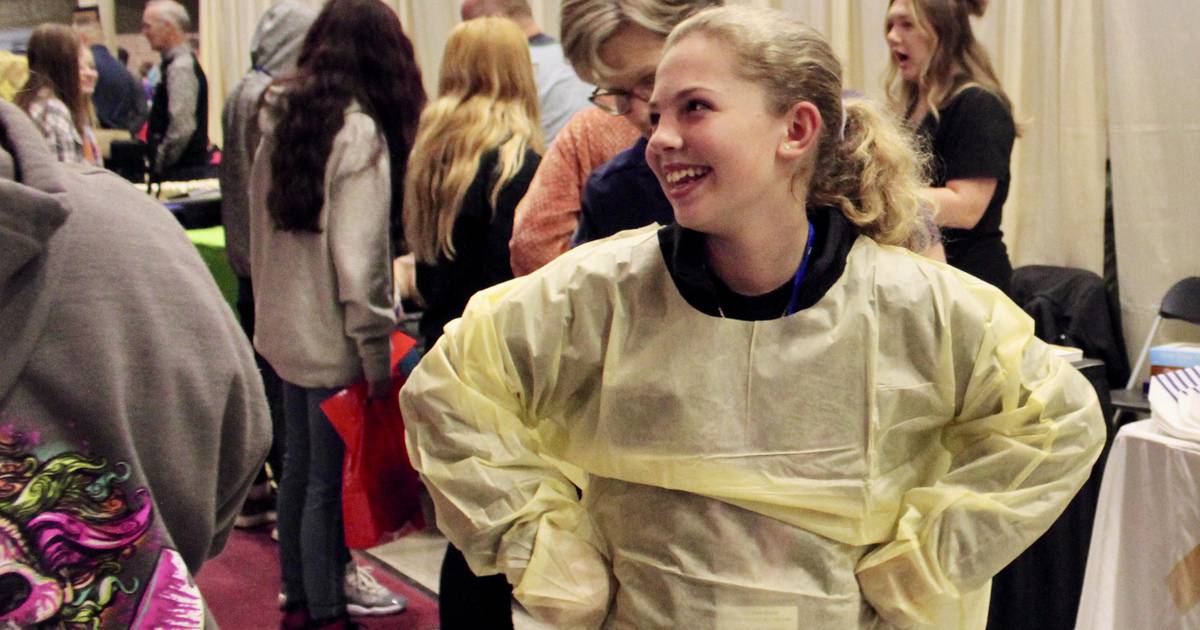 One thousand Sauk Valley eighth graders explore careers at Pathway Playground – Shaw Local
DIXON – What do you want to be when you grow up?
More than 1,000 eighth graders from 12 area schools were able to explore the possibilities Friday at the first Area Education Office 47 Pathway Playground at Sauk Valley Community College.
Some were doing what Renzije Dzeladini, 13, from Morrison, described as "sampling".
His fourth stop at the job fair was the booth of VeriFacts, the Sterling-based employment verification company.
Guided by Shaunte Padilla, Performance Specialist at VeriFacts, Dzelandini went through the verification process using a phone and web browser-based software.
"We like to think of ourselves as mini private investigators," Padilla said, "except we work at a desk."
Good telephone etiquette is essential. But even this process is being modernized. The company will increasingly make inquiries with a text message-based system.
Dzeladini said she plans to become a teacher or a nurse, but she is not ruling out other careers just yet. Mainly, she's just enjoying the chance to explore other jobs.
There was plenty to see – over 50 employers or professional associations had set up booths in the school's Dillon Mall.
"I think it's pretty nice here," Dzelandini said. "I think it's a really cool atmosphere."
Vanessa Wessels, director of engagement at VeriFacts, said the spirit of the day was to demonstrate to young people that they can have different options.
"If you can find something that helps you grow, try it," she said.
Chanda McDonnell is a Pathway Navigator for RE 47. The model for this type of job fair is one that has been held in the Rockford area for several years. But it was the first real opportunity since the COVID-19 outbreak for ROE 47 to host this kind of event.
The Pathways program aims to give high school students a chance to earn college credit and gain hands-on work experience in their chosen field. Students who meet the requirements receive a Pathways certification for their high school diploma.
In this region, the focus has so far been on helping future teachers: 10 graduate from four schools in the region with the Certificate of Education in 2022, the Board of Education of the region said on Thursday. State of Illinois.
McDonnell said expanding Pathways to offer certifications in health sciences, agriculture and manufacturing is the next step. Rock Falls and Fulton High Schools, for example, have begun offering fabrication programs, although their participants have yet to graduate.
Friday was all about sharing career options with employers, satisfying the curiosity of eighth-graders so they had time to explore those job requirements.
McDonnell said the day was important, noting that "for eighth graders, it's just about having that mindset, like, 'You know what really interests me? The field of engineering. What should I take in high school? » "
Talking to people in related fields at this event can bolster their class selection, McDonnell said. It gives them a chance to explore the discipline as a freshman and sophomore, to start them off with that extra science lesson or that extra math lesson needed to be an engineer.
But it happens early enough in their high school career that they have time to switch gears if needed.
"When they start, they have time to try something else, and that's what we try to give them, you know?" she says. "They can just try, see what they can do, see where their interests lie and hopefully spark something in them."
Jerrie Garcia, Ohnaka Garcia and Kari Brown were at the booth at the Lotus Wellness Spa and Salon of Rock Falls, explaining the rise of their health and wellness business. They had an attentive audience: a group of female students gathered around listening.
Jerrie Garcia said their massage therapy service has been in high demand since the COVID-19 pandemic.
The Sterling Police Department booth had an exhibit that included their community service dog. Members of the Illinois State Police were demonstrating some gear. There was a selection of firefighting devices made by the Amboy-based Dinges Fire Co.. The Dixon Fire Department had compartments of a fire truck open for inspection in the parking lot.
At the Illinois Department of Transportation booth, students were directed to a pedestrian roundabout. The local plumbers and pipefitters unit was also on site.
There were local exhibitors in health science and technology, manufacturing and trades, agriculture and food service, information and technology, and utilities. In total, 16 career poles were represented.
One of the most popular agricultural science demonstrations was led by Sauk Valley Community College instructors Michael Selover and Kevin Larsen. They launched a drone equipped with a sensor capable of identifying damaged or diseased sections of a field, uploading that location data to a computer-guided tractor equipped with a sprayer, and effectively applying chemicals to the affected area.
Selover said the next step with the technology is to use larger drones to do the spraying instead of a tractor.
In another section, 13-year-old Nevaeh Scheffner was all smiles as she tried on a medical gown at a KSB hospital stand. Although she has a doctor aunt, she is more interested in nursing.
His view on the size of the fair?
"A lot of things," she says.
But not too much to take.
That's good, because McDonnell hopes that next year she can increase both the number of companies in attendance and the number of students participating.