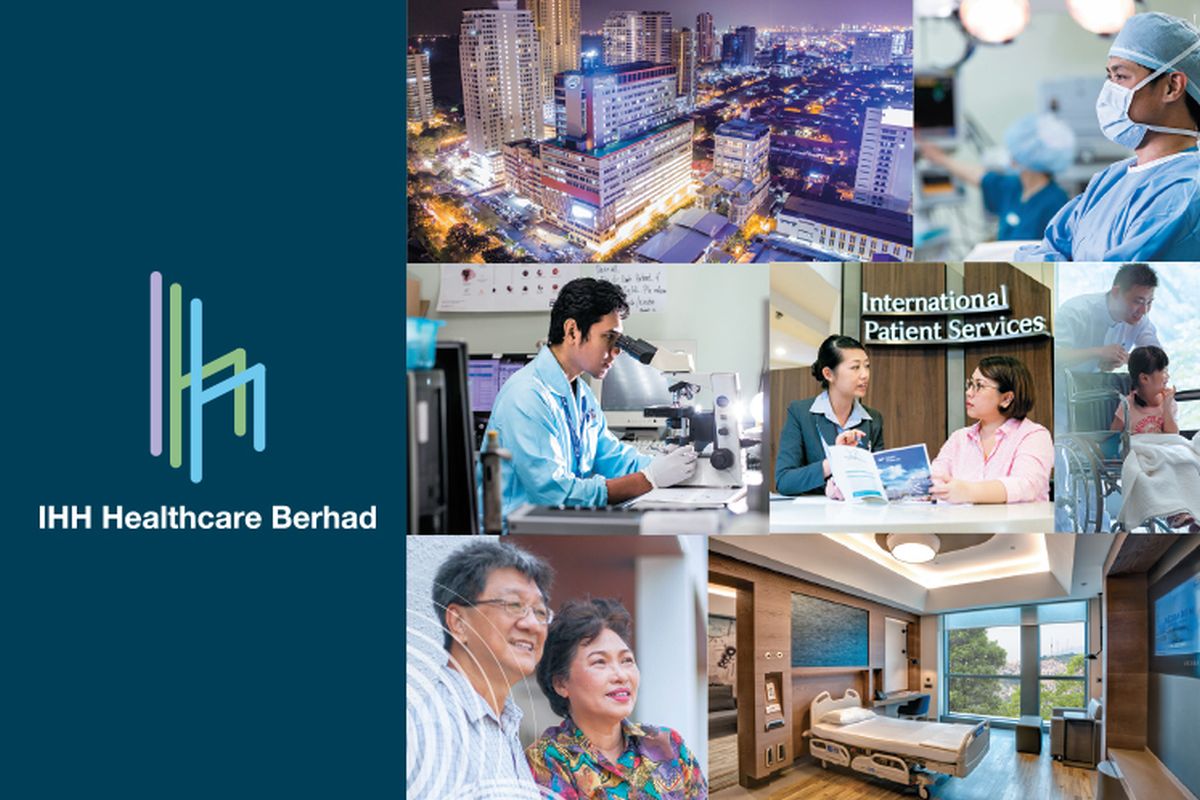 IHH Says Record FY21 Performance "Springboard Year" For Future Growth
KUALA LUMPUR (February 23): IHH Healthcare Bhd regards its record performance in 2021 as a "springboard year" for positioning for future growth and development of its laboratory business, its executives said.
Speaking at IHH's earnings briefing, its Managing Director and CEO, Dr. Kelvin Loh, said a recovery in patient volume and the successful execution of the strategy of the group – which was defined at the beginning of the pandemic – will improve the efficiency and the bottom line of the group. go forward.
Notably, the influx of returning patients along with the contribution from Covid-related services and improved operating costs helped IHH beat the consensus profit forecast as of December 31, 2021 (FY21) of 18.05. %.
The group posted a 545% increase in net profit for FY21 to a record RM1.86 billion or 20.2 sen per share from RM288.88 million or 2.27 sen per share a year earlier.
Its full-year revenue increased by 28% from RM13.4 billion to RM17.13 billion, driven by improvements across all healthcare segments, including its operations in Turkey, as its natural hedging helped mitigate the strong weakening of the lira.
For the fourth quarter ended December 31 (4QFY21), IHH's net profit increased by 8.16% to RM453.6 million from RM419.36 million as revenue grew at a faster pace 18.7% to RM4.47 billion from RM3.77 billion.
The group declared a dividend of six sen per share for the year, up from four sen in FY20.
At the end of 2021, the IHH improved its net debt/Ebitda ratio to 1.37 times compared to 2.42 times at the start of the pandemic.
Its net cash from operations increased to RM3.53 billion in FY21 from RM2.44 billion in FY20, with IHH describing its core businesses as having "reached new level of sustainability".
"We now have a very strong balance sheet to accelerate our journey through acquisitions," Loh said.
Strengthening of existing clusters
The group intends to expand further into geographic clusters in which it is already established, or venture into new adjacent markets where it has a brand presence, Loh said.
"[The cluster strategy] is just more capital efficient," Loh said. "If there are indeed assets that don't fit the strategy – maybe they're not providing the returns we're looking for, or they're in areas where we're not improving – then we could consider divestments and reinject capital into clusters [where] we are strong," added Loh.
It also plans to expand its laboratory segment – ​​with 400 laboratories across the group – which generated RM2 billion in revenue in FY21.
Meanwhile, the group's chief financial officer, Joerg Ayrle, said IHH will "stay" and "engage in China", with the group always looking for "new ways of working" to improve its operations there, which was the only loss-making division in FY21.
The group said in November that there were discussions on the strategic directions of its investments, but no decision has yet been made, amid reports that it is considering the sale of Parkway China, which could add value to the billion dollar unit.
"We have to find new ways to succeed. We have worked very hard to turn operations around, a lot has been done operationally. We have to find new ways and potentially new partnerships," Ayrle said.
"The key question is how do you find the right partner for long-term success," Ayrle said.
IHH still sees short-term headwinds amid the declining contribution from Covid-19-related services, which accounted for around 15% of group revenue in 2021. Cost pressure due to inflation, as well as staff recruitment and retention could also weigh on performance in 2022.
However, the group also expects a further recovery in hospital admissions, particularly in its main market, Singapore.
Shares of IHH traded unchanged at RM6.30, giving it a market capitalization of RM55.43 billion.