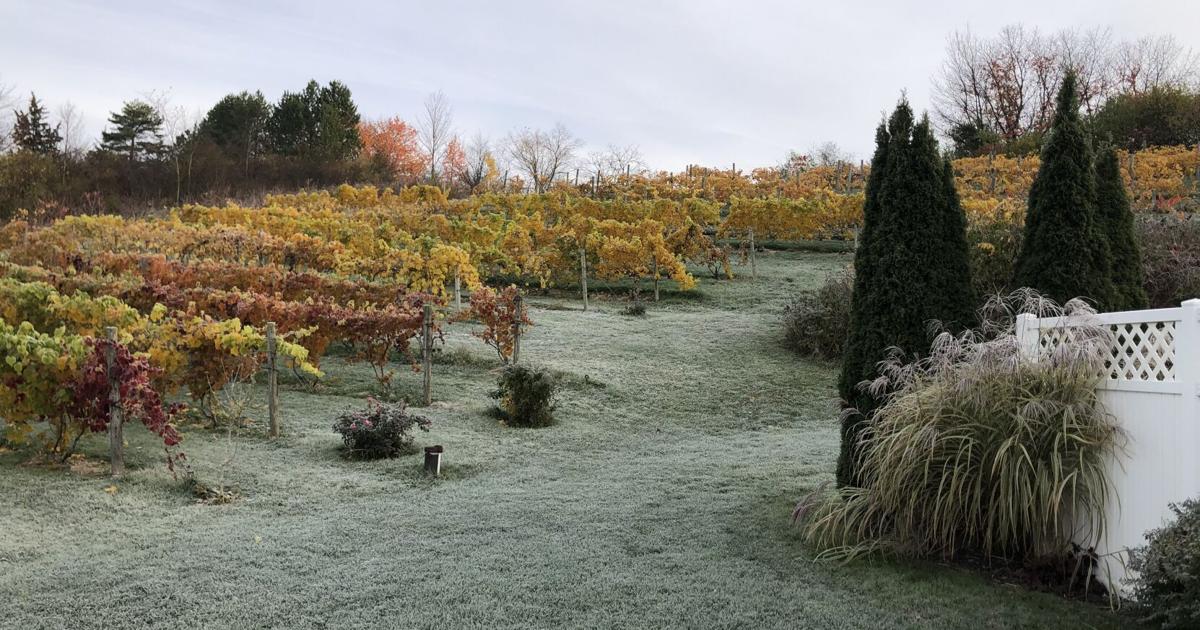 Finger Lakes Wines and Grapes: Go, Go, Go!
Chris Scholomiti special for the citizen

The 2022 harvest is over. At CJS Vineyards, we finished pressing our last grapes in early October.
Overall, the quality of the grapes this year has been excellent. However, yields have dropped significantly. A hot summer with near-drought conditions through August, followed by an excessively wet September, made for a wild ride through the Finger Lakes vineyards and wineries. Suddenly the harvest was upon us, and things happened very quickly. Each year brings new adventures to viticulture here in the Finger Lakes. At least we didn't have to deal with wildfires like our brothers in California, and Australian growers suffered severe flooding in some of the wine regions. Viticulture in the world is always a challenge!
Then we have to deal with day-to-day issues. Despite all the equipment maintenance and pre-harvest planning I've done, there are still things going on. After crushing our first load of grapes this year (Cayuga White) smoke started coming out of the motor control box on the crush/destemmer – not a good thing! Luckily it was after we finished loading, and I was able to remove the motor and drive to Weedsport to have it repaired. A few days later, just in time for our next variety to crush, we were back in business. Thank you, Weedsport Electric Motors Inc.!
Well, we finally made it here in the Finger Lakes. Talking to other local grape growers and grape growers, last winter's cold spells caused more damage than expected, leading to shortages of some vinifera grapes (Old World European varietals, Riesling, Cabernet, Chardonnay, Pinot Noir). Hybrid grapes (Cayuga, Chambourcin, Marquette, Marechal Foch) performed well with less winter damage, as they can survive lower winter temperatures. The good news is that the 2021 crop was bigger than normal, so the smaller 2022 crop wasn't as bad as it could have been. I guess Mother Nature evens things out. Then October was drier and warmer than usual. If we could have swapped October for September things would have been easier, but that is all history now.
The vines are now closing, reaching the end of their life cycle – 'senescence', defined as 'deterioration with age'. The leaves turn yellow and then reddish brown, and after heavy rain, high winds and hard frost, the leaves drop, leaving a gray, bare vineyard. It's a bit sad for a winegrower after all the work we've done during the year: dormant pruning, tying the vine shoots to the trellis, watching the bud burst, the growth of the leaves, the flowering, the development of the bunches, canopy growth throughout the season, leaf stripping, trellising adjustment, hedging, then ripening and finally harvesting. Eight months have passed, and we will begin the cycle again in about four months.
In the cellar, we monitor this year's fermentation and once finished, we "rack" the new wines. Racking is a process of moving wines from the fermentation tank to a new tank, leaving behind fermentation sediments at the bottom of the tank. This allows the wines to clear naturally. We are in the process of bottling our white wines from 2021, and our reds from 2019. With the early harvest this year, many of our dry reds have temporarily gone into vats until we can empty the wines. 2020 reds from the barrels and replace them with the new 2022 reds. As a general rule, we age our dry red wines for about two years in oak barrels. We will refill the barrels about four times, and after eight years we will replace the barrels with new ones. Barrel aging is done to soften the tannins in the wines and add some oak flavor. So we get a few new barrels every year.
In October at CJS Vineyards we had visitors from the Auburn History Club. The weather was great as we walked through the vineyard and toured the winery and then ended up in the tasting room to sample our wines. With the holidays fast approaching, now is the perfect time to visit local Finger Lakes wineries and stock up for your next holiday gifts and celebrations!
Chris Scholomiti is co-owner and winemaker of CJS Vineyards & Aurelius Winery, located at 6900 Fosterville Road, Aurelius. The winery is open by appointment for tastings, sales, and curbside pickup; please call or text ahead. If you have any questions or comments about viticulture and viticulture in the Finger Lakes, contact him at [email protected] or call (315) 730-4619.