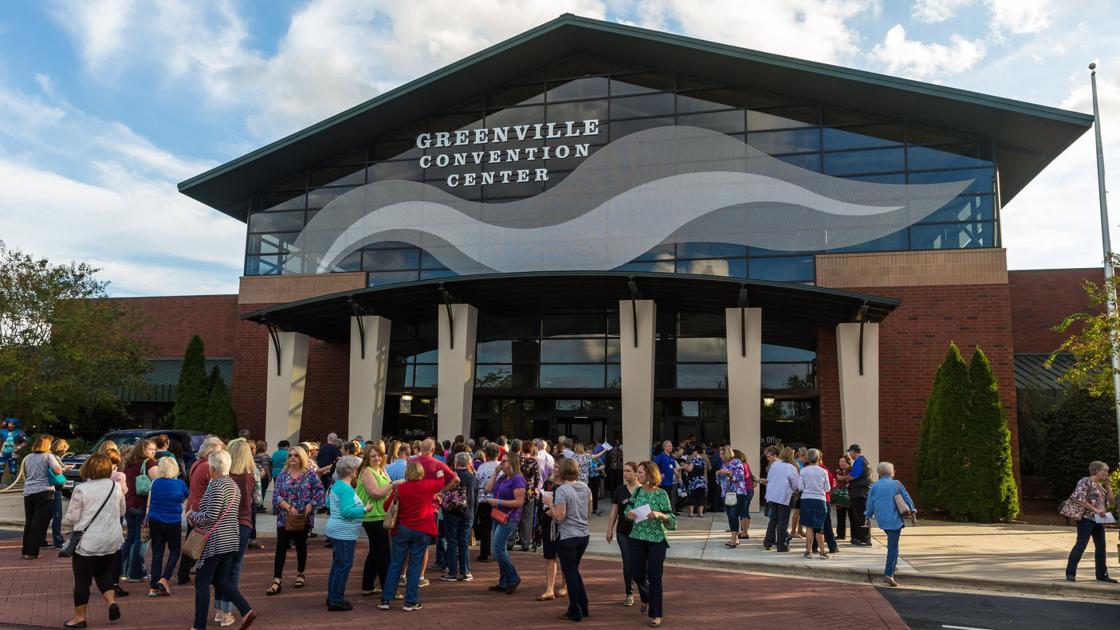 CPC Notes: College Teams Up with Belk Endowment, Business Developers at Career Fair | Local News
[ad_1]
WINTERVILLE – Pitt Community College is partnering with John M. Belk Endowment, Greenville ENC Alliance and Pitt County Economic Development to host the Better Skills, Better Jobs career fair next month.
The event, scheduled for October 26 at the Greenville Convention Center, will give adult job seekers and high school students in Pitt County the opportunity to discuss employment opportunities with representatives from business and industry. of the region. Information on community resources that can help people prepare for these careers will also be available.
"Pitt Community College is committed to preparing high school students for rewarding careers and helping adult learners develop, retrain and retrain, either to advance in their current careers or to completely change careers." , said CPC Chairman Lawrence Rouse. "We hope the fair will help raise awareness of careers and educational opportunities in our community and foster engagement between employers and people who can fill their need for skilled workers after graduation. "
Those planning to attend the fair are encouraged to register at pittcc.edu/better-skills-better-jobs-2021. They are also encouraged to bring copies of their resumes, as employers can conduct on-site interviews during the event, which will follow COVID-19 safety protocols, including face masks required for all attendees.
Dr Johnny Smith, CPC's vice president of strategic initiatives and community engagement, said event organizers expect 75 companies and industries to attend the fair. He said PCC would have staff from various programs and services available, as would a number of community partners including Pitt County Schools (PCS), East Carolina University (ECU), Greenville Utilities, NCWorks, Tradesformers, Vidant Health, and the NC Coastal Society. for human resources management.
The morning of the show will be reserved for high school students. In addition to employment information, there will be details on how they can start working for a college degree while still in high school, through programs such as Career & College Promise and the PCC- PCS Technical Academy.
Following the morning segment, there will be a vendor lunch which will include remarks from Rouse, Foundation Chairman John M. Belk MC Belk Pilon, PCS Superintendent Ethan Lenker, Vidant Health CEO Michael Waldrum, Vice – ECU Chancellor Michael Van Scott, myFutureNC President / CEO Cecilia Holden, and Dr. Audrey Jaeger, Executive Director of the Belk Center for Community College Leadership and Research. After that, the doors will open to adult job seekers from 2 p.m. to 7 p.m.
"We are delighted to be associated with this unique career development event," said David Horn, director of investor and community relations for the Greenville ENC Alliance. "Our three public education institutions come together with the region's top employers to help job seekers discover the great career opportunities available locally and gain information on the education and certifications needed to take advantage of these wonderful opportunities. "
Kelly Andrews, executive director of economic development for Pitt County, said the fair demonstrates that local leaders "recognize the importance of both developing a skilled workforce and connecting that workforce to career opportunities "in Pitt County.
This link can be made at the 'Better Skills, Better Jobs' career fair, which will provide a forum to connect the current and emerging workforce to available education and training assets, as well as to local employers willing to hire, "Andrews said.
As a leader in workforce development in eastern North Carolina, PCC offers degrees, diplomas, and certificates in over 60 out-of-the-box programs to help individuals advance professionally. . Rouse noted that many of these programs, including business, computers, biotechnology and health sciences, provide skills sought by top employers in the area.
Honor to society for organizing a garage sale
The PCC's Beta Nu Upsilon section of the Phi Theta Kappa Honor Society will be holding their annual garage sale on campus on October 30.
Rain or shine, the fundraiser will take place in the paved parking lot in front of the William E. Fulford Building from 7 a.m. to 11 a.m. Installation begins at 6 a.m. and spaces must be cleaned by noon.
The community is invited to participate in the sale by reserving parking spaces. The cost is $ 12 per space, payable in cash or by check, if paid by October 20 at 5 p.m. After that, spaces are $ 15 each and can be purchased "at the door" on the morning of the event. Those paying in advance are asked to bring receipts with the sale.
Items banned on the CCP campus, including weapons, drugs, tobacco, and alcohol, cannot be sold during the event. In addition, sales of food and drink are not permitted except by PTK members. Vendors must provide their own tables and are permitted to park their vehicles in a separate parking space at no additional cost.
As part of COVID-19 security protocols, event planners will ensure that there is sufficient space between vendors. Wearing face masks is encouraged.
Accredited with the PCC in March 2005, PTK rewards students who have excelled in the classroom. To be eligible for membership in Beta Nu Upsilon, students must complete a minimum of 12 credit hours of associate course and achieve a GPA of 3.75 or higher. They must maintain a high academic standard (3.5 GPA or above) throughout their enrollment in the PCC.
For details on next month's garage sale, contact PCC instructor Joy Hall, who serves as a PTK advisor, at [email protected] or 493-7558..
[ad_2]